Welcome to Standard Comics!
Setting the Standard in Comics!!
The Standard Comics Universe is made up of a variety of heroes and villains, including updated public domain characters (like TNT Todd or the Grim Reaper) and original characters (like UltraMan, Optima, Star-Storm, Chthonak, Emulex, and Dreadhelm).
I began commissioning comic art in 2010 and quickly settled into pieces featuring old public domain superheroes with the idea that "Standard Comics" (a real company until the 1950's) bought all these characters and published them together in a shared universe. Eventually my own creations crept into the mix. Basically, the idea was that each of the fake covers or interiors to these imaginary comics were a sort of window into another universe where the heroes of "Standard Comics" were as famous as those at DC or Marvel. 
In a small way, I think the idea is reflective of this thought from Argentinian writer Jorge Luis Borges:
"Writing long books is a laborious and impoverishing act of foolishness: expanding in five hundred pages an idea that could be perfectly explained in a few minutes. A better procedure is to pretend that those books already exist and to offer a summary, a commentary."
The first result of this was the Standard Comics Encyclopedia (see Current Projects).
is the next issue in the series, following on the heels of the last Sentinels comic successfully funded via a Kickstarter campaign! A comic book featuring fantastic new heroes and villains. I hope that adults enjoy the book, and read it to, and with, their kids. It's not a retro, tongue-in-cheek book, just good solid heroic adventure for the whole family. Once all the backers have their rewards, it will be available on IndyPlanet.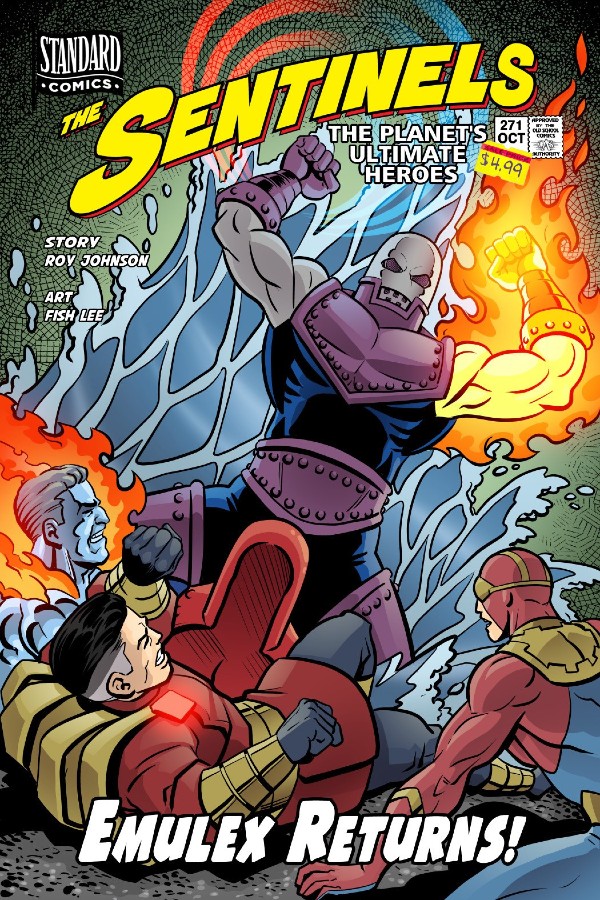 Get on the mailing list HERE.
Written by Roy Johnson (Author of "The Standard Comics Encyclopedia (Abridged)" and "Forced Labor"). Illustrated by Fish Lee. A professional artist for over 25 years, Mr Fish Lee has worked in many fields. He spent many years doing graphic design work on everything from t-shirts and signs, to album covers and animation, been a sculptor and a muralist… But has recently turned his efforts back to his first true love, storytelling and comics.
A one-and-done story featuring some updated public domain heroes: members of the Planet's Ultimate Super-Heroes, The Sentinels.
LIVE on Kickstarter.

This message is only visible to admins.
Problem displaying Facebook posts.
Click to show error
Error: Server configuration issue