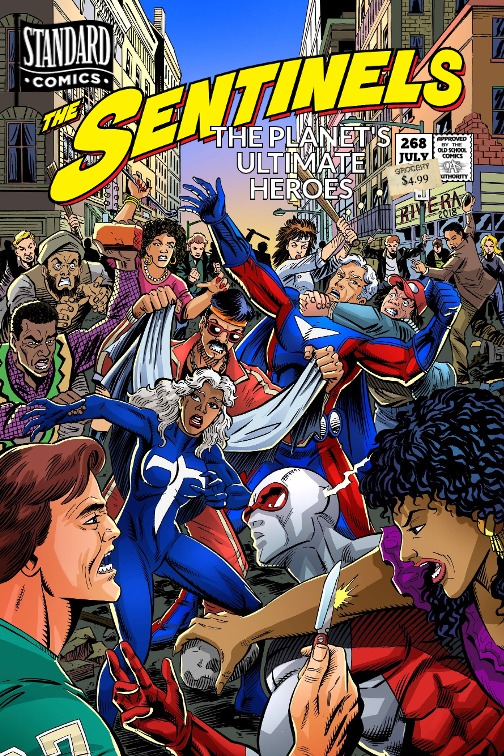 The Sentinels:The Planet's Ultimate Heroes #268
"Hammer and Anvil"
LAUNCHES AUGUST 20, 2018 ON KICKSTARTER
is the latest issue in the series, following on the heels of the "Forced Labor" comic successfully funded via a Kickstarter campaign!
STANDARD COMICS is based around the idea: What If there were a third big North American comic company publishing superhero stories since the Golden Age? The series is designed to be a Bronze Age bonanza where you can discover comics from a parallel universe that have found their way into a back issue bin at your local comic shop.
The last issue was funded via Kickstarter, and I'm in the final stages of launching the next (shooting video, some graphics) AUGUST 20th 2018, so I hope that, if you're a fan of the JLA and Avengers stories from the 70s/80s that you'll check it out and back it when it launches.
"BUT HOW CAN I HELP? I'M ONLY ONE MAN (OR WOMAN)!"
Whenever I announce something there that interests you, please consider giving it a share.
Kickstarter campaign launches soon (late July/early August 2018), so stay tuned for details. You can get a free PDF comic sampler and join the Mailing List HERE.
Rewards
You can have your original character appear in the book as one of the main villain's goons/minions/henchmen!
So, I don't need your planet killers or world conquerors, but I do need your assassins, mercenaries, costumed bank robbers, hired muscles, and so on. They will appear in conflict with the Sentinels. There are three parts where they could appear:
1. A two page scene where they get defeated and hauled off by the cops.
2. Page 11 and half of page 14 fighting various heroes.
3. Pages 21 and 22 fighting UltraMan
Your character(s) in battle against my heroes — it's a match made in heaven! You obviously retain all rights, and we get to feature your character in the book! Sweet!
Written by Roy Johnson (Author of "The Standard Comics Encyclopedia (Abridged)" and "Forced Labor").
Illustrated by Luis Rivera. Luis is a penciller and inker, having worked for Old Skull Comics, Pilot Studios, and Standard Comics who brings an old-school (as in, "old school is the best school") look to his work.
A one-and-done story featuring Optima, UltraMan, Raven, Crimson Streak (who's appearing in Coalition Comics' Power Company series), and some of the other members of the Planet's Ultimate Super-Heroes, the Sentinels.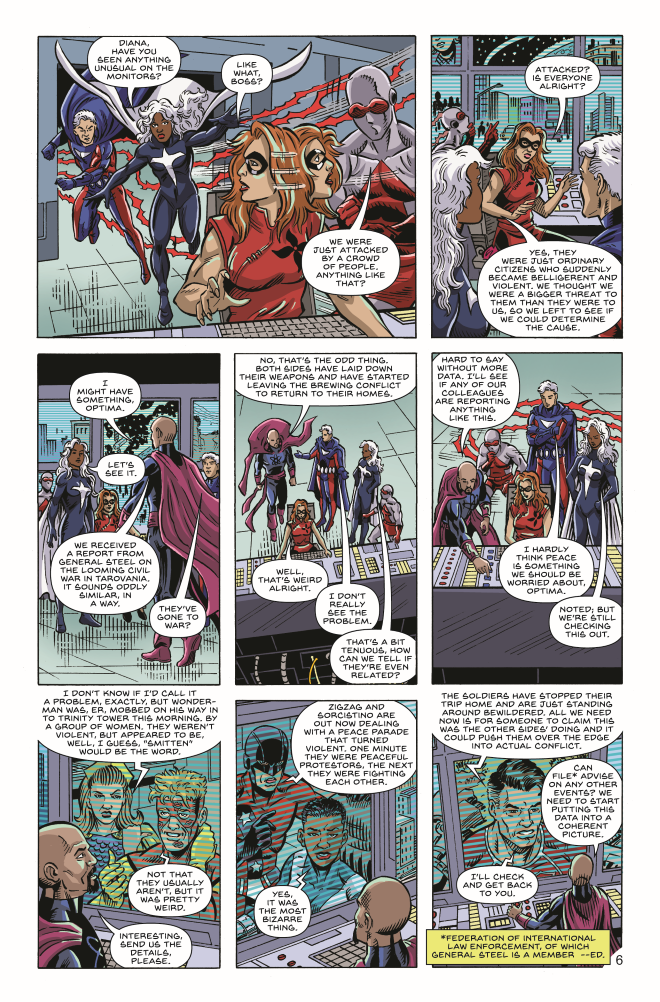 Stay tuned for more info!
Art by Luis Rivera and Escomic!